This Land Is Our Land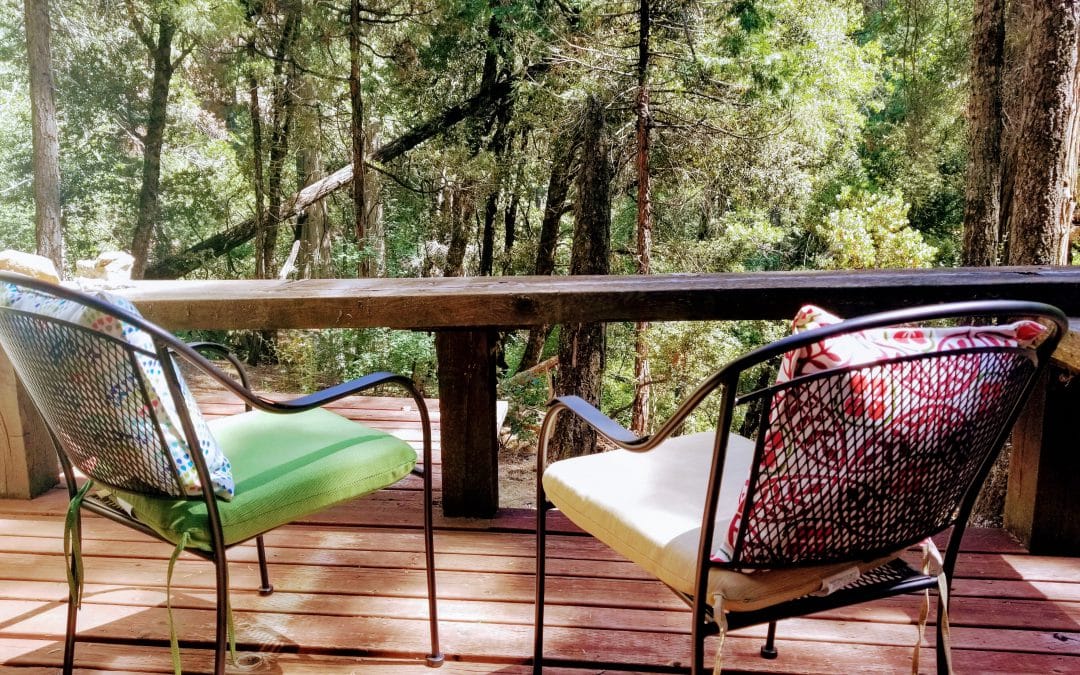 Do you have a "place," a specific piece of land that makes you feel deeply connected? Do you have a spot that you return to and say, "THIS is where the thread of my life began"? For me, it's a small cabin in the Sequoia National Forest that sits on the Tule River, surrounded by Douglas Firs, Incense Cedars, and Giant Sequoias. This is where my mom unofficially found out she was pregnant with me when my great-aunt divined my upcoming arrival after my mom scarfed an entire family-sized salad in record time. This was the first piece of land that my family bought in the Central Valley, and my grandmother literally pulled the cash out of her freezer to purchase it. I was born in Los Angeles, at a hospital that no longer exists, to a mother who was in hard labor for 36 hours with no pain relief because the doctors refused to give a woman of color the proper care. Because of this difficult birth, my parents decided not to have any more children, so I have grown up as the only child and grandchild of some exceptional people who have taught me about the precious gifts of stewardship, hard work, and ingenuity. My parents and grandparents worked hard in order to buy the land that they knew would sustain them and their family for years to come. In this regard, we are more fortunate than most families of color in this area, and with the high cost of living in California, the attainability of land ownership is getting more and more remote.
Most oppressed groups and civil rights leaders have long understood the importance of land accessibility in their struggles for equality, autonomy, physical and mental health. Growing food on that land was not only a matter of survival but also an act of resistance that asserted their rights to practice their own cultures and ancestral knowledge. Many African slaves hid seeds from the homelands in their hair and clothing, bringing such crops as yams, okra, rice, and watermelon to the Americas. After the abolishment of slavery, sharecropping and tenant farming were ways for former slaves to make money and gain some control over their resources, but it still made for a difficult and arduous lifestyle in which the landowners continued to received the bulk of the profits. The government's promise of the "40 acres and a mule" was a myth for the majority of people, so cooperatives like the Colored Farmers Alliance were created to help black communities buy and sell their wares in a market they knew would be fair and beneficial for the entire community. They also pooled resources in order to purchase the land and tools necessary to build a thriving local food system while also practicing good land stewardship to increase health and yield. Their entire existence and independence was connected to the land, so caring for it meant caring for themselves and each other. (For more information on the history of agriculture in the black community, see Monica M. White's Freedom Farmers: Agricultural Resistance and the Black Freedom Movement.)
Social and environmental conditions in the Central Valley can be seen as harbingers of the future of our human systems. We've become so disconnected from what we do to the land that our health and humanity are suffering for it. When we can point to a piece of land and say "THIS is where the thread of my life begins and ends, THIS is the future of my family and my community, THIS is where my tomatoes/water/medicine come from", we are much more likely to care for it in a way that is nurturing and regenerative, as opposed to destructive and exploitative, which in turn teaches us how to care for each other. We know that our food system has caused such degradation that we may not be able to recover, but by combining the wisdom of our past with the innovation of the present, there may be hope for a new way of farming in which the health of ALL is the real bottom line. It will take a major shift in our thinking, one that won't come immediately or without struggle, but human cooperation and creativity are boundless resources that we can no longer afford to waste. But it has to begin with the land, because when we lose our connection to the land, we lose the best of ourselves.